Automattic Seems More Committed to Marketing Their Jetpack Service Than to a Safer WordPress Experience
For years WordPress has been knowingly leaving websites at risk of being hacked due to a refusal to warn when plugins are in use that known to be vulnerable and have been removed from the Plugin Directory due to that fact. Considering the damage that is caused by this and there not being any reasonable argument for not warning people, at times when removed plugins have been widely exploited we have started to wonder if this might not be due to gross negligence, but if there might be a more nefarious explanation.
The company closely associated with WordPress, Automattic, does have a several products marketed as security products, Jetpack and VaultPress, so allowing websites to be hacked to help those services could be an explanation, though we highly doubt it. That being said Automattic doesn't seem to have the best interest of the public when it comes to security. For example, they have helped other security companies in pushing the false notion that there are many brute force attacks against WordPress admin logins, which takes the focus away from real security threats like unfixed vulnerable plugins.
While looking for something for another post we ran across something that relates to the issue of those removed plugins. On the Jetpack website they have a set of pages on the security of WordPress plugins named the WordPress Security Library. There they give the public information that WordPress has been refusing to. For example, they warn that plugin Form Lightbox is unsafe:
That refers to an option update vulnerability that exists in that plugin.
In explaining these pages in another in this section of the page, there is the following text:
About this information

---

This WordPress security information is part of our security library and is brought to you by Jetpack as part of our committment to a safer WordPress experience.

If you have any questions, please do not hesitate to contact us.
What isn't mentioned there (as is so often is the case) is the source of that data, which is pretty clearly the WPScan Vulnerability Database. If you follow our blog, you would already be aware of the serious issues that come with the use of that source. As example of that, the plugin Downloads Manager is listed as being "Good" and the "current version safe":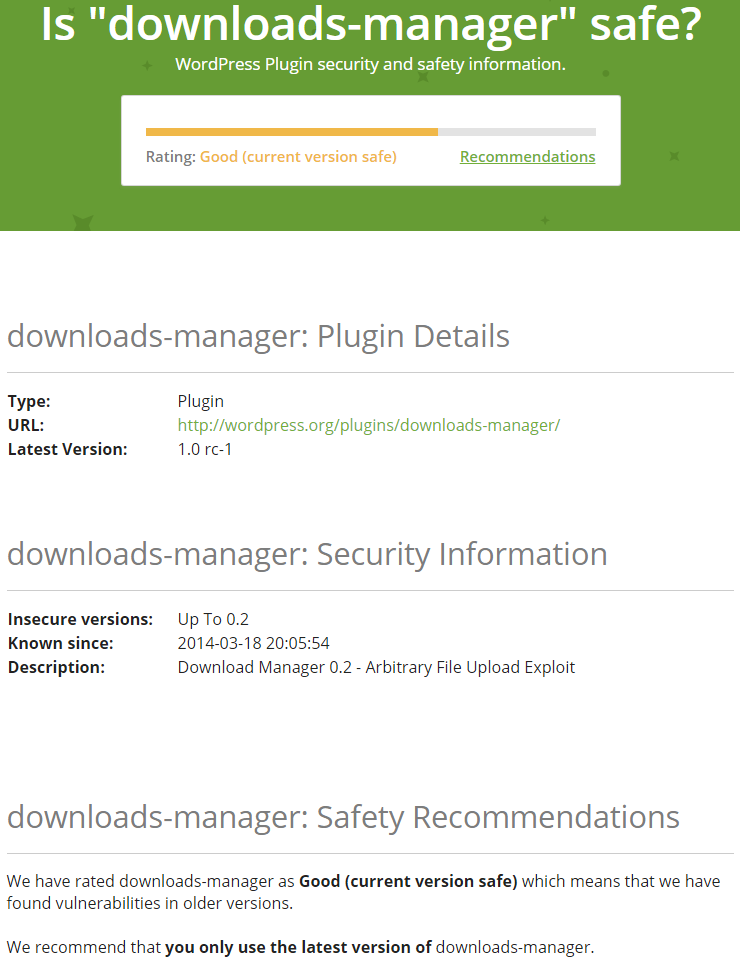 There is an indication there that it might not be, as they are not showing the name of the plugin instead its slug, "downloads-manager", which seems to be because the plugin has been removed from the Plugin Directory. The reason for that is that the most recent version of the plugin has an arbitrary file upload vulnerability, which we discovered after we saw hackers targeting the plugin. That vulnerability isn't in WPScan Vulnerability Database, as is the case with many very exploitable vulnerabilities we have discovered and publicly disclosed.
Even when WPScan has data on a vulnerability the Jetpack website isn't always accurately presenting it (this seems to be a frequent issue with services and products reusing their data). For the plugin Delete All Comments they also list it as being "Good" and the "current version safe" despite the fact that they list a vulnerability being in up to version 2.0, which is the most recent version: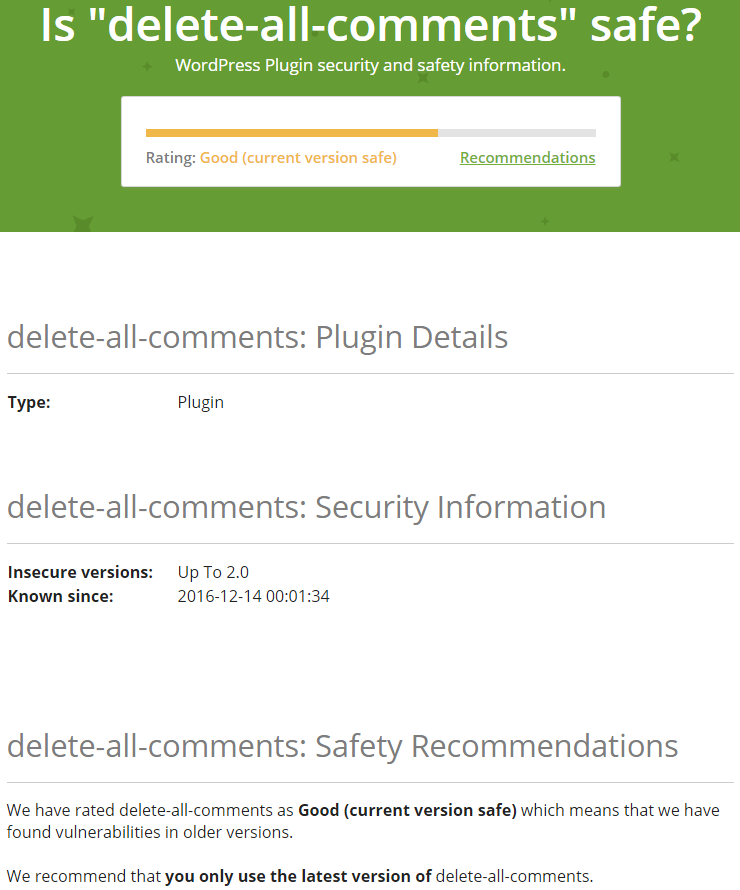 So Automattic is presenting bad information to those looking at this section of the website, but what makes this all the more troubling is that right below the "Safety Recommendations" section of these pages is two sections advertising their service:
So their commitment seems less to the safety of WordPress, seeing as they haven't joined us in trying to finally get WordPress to warn about removed vulnerable plugins, and more to promoting their service using someone else's data without disclosing that.
It is also worth noting that if their "Regular, automated scans of your site for malware, threats, and hacks." are also using the WPScan Vulnerability Database's data then you their customers are going to be unaware of many vulnerabilities, like the one in Downloads Manager, so if you are actually interested in protecting against vulnerable plugins then you should at least install the companion plugin for our service, since we list in the free data that comes with that, vulnerabilities like the one in Downloads Manager. For more complete data, as well the ability to vote/suggest plugins to receive a security review from us and helping us to further improve the security of WordPress plugins, sign up for our service.