Wordfence Falsely Claims Current Version of Removed Plugin Contains Vulnerability That Was Fixed Over Six Years Ago
A couple of weeks ago we noted that Wordfence was trying to make people reliant on their plugin instead of helping everyone in the WordPress community by getting behind the effort for WordPress to start alerting when websites are using plugins that have been removed from the Plugin Directory. One of the reasons we noted as to why what they were doing was problematic even for those using their plugins, is that the people on the WordPress side of things know why plugins are removed and could let people know why, while Wordfence can't. It turns out though that Wordfence will present things in way that leads to people to believe otherwise, while in the case of at least one plugin, presenting incredibly inaccurate information about the security of it.
Through monitoring of the WordPress Support Forum we do to keep track of vulnerabilities in WordPress plugins, we came across the thread about the plugin Sermon Browser, which has been removed from the Plugin Directory. The original poster in thread wrote:
I just received a "Critical" security notice from my website last week. It stated that the plugin was removed from the WordPress repository because of critical security issue. Apparently a SQL injection vulnerability has been identified.

I am sure the owner was notified of the removal. But I would expect a "sticky" post or an update or something. Has anybody else heard of any response to this?
Below that was the message from Wordfence:
The Plugin "Sermon Browser" has been removed from wordpress.org.
Current Plugin Version: 0.45.19

Severity: Critical

Vulnerability Information:
https://wpvulndb.com/vulnerabilities/6404

Status New

It has unpatched security issues and may have compatibility problems with the current version of WordPress. Get more information.
https://docs.wordfence.com/en/Understanding_scan_results#Plugin_has_been_removed_from_wordpress.org
Following the link to the entry on the WPScan Vulnerability Database in that message brings up this page: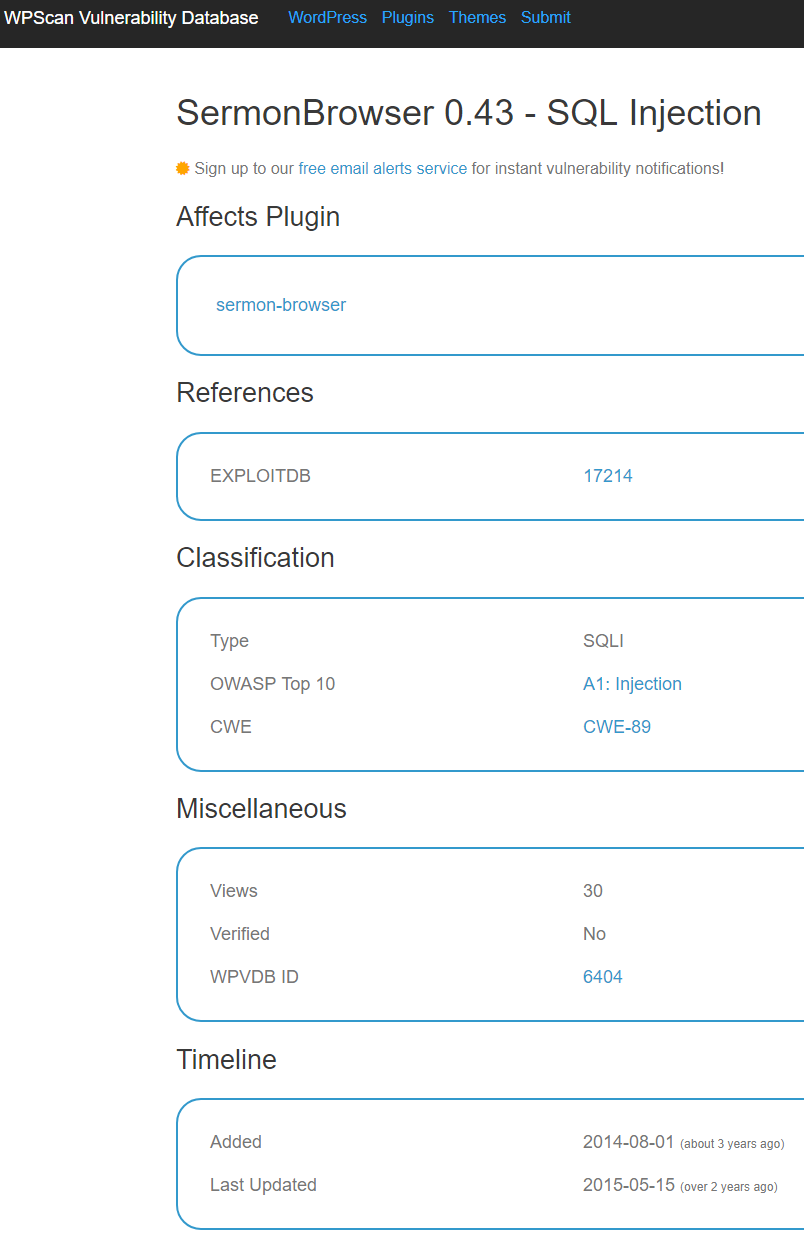 The most important things to note in that is the vulnerability is not labeled as being fixed and the dates, the listing was added on "2014-08-01″ and last updated " 2015-05-15″. From that page you can get the actual information on the vulnerability.
In looking over things we found that the vulnerability was actually fixed the same day it was disclosed, back on April 26, 2011.
That the information in the WPScan Vulnerability Database isn't accurate isn't a surprise. It was just back in June that we discussed their inaccurately label an unfixed vulnerability as being fixed. In April we noted another instance where they labeled fixed plugins as not being fixed. We could go because there are plenty of instances we have discussed on this blog, which certainly are not all of them.
WPScan's accuracy issues are only part of the problem here, as Wordfence is choosing to further spread the inaccurate information. Either they haven't done any due diligence at all on their data source on plugin vulnerabilities, which would not put them in a good light, or what seems more likely, they know and don't care. It's not like no one has pointed out the problem with Wordfence using that data before, we did that back in May. The other option Wordfence could use is to check the information to make sure it is correct before passing it along to those using their plugin, but what we have seen repeatedly is they either don't have the skills to do that sort of thing or are too lazy to do that.
If you are a customer of Wordfence's you might want stop that since you are giving money to a company that doesn't seem to have interest in really improving security, but you should at least contact them and let them know they should get behind the effort to get WordPress to properly handle alerting for removed plugins.
If you want accurate data on vulnerabilities in WordPress plugins you can get that with our service or in more limited form with the free data on vulnerabilities that are already being exploited that comes with the companion plugin for our service.
If you are using a plugin that isn't being supported by the developer anymore, over at our main website we offer a service for taking over abandoned WordPress plugins, which includes doing a security review of it.